The longer it takes me to write a new post, the harder it is to refocus; I have lots of ideas I want to share but 'things' keep getting it the way and I put off writing. Then I become a procrastinator, and writing gets even harder as time moves farther and farther away from what I had intended to post. Does this ever happen to you? For now, I'm going to do one of those random, recap posts to catch up, and try harder to stay up to date in the future. At least that's what I intend.
In my
Sept. 13 post,
I described a mini-vacation we took on Orcas Island, and mentioned a vegan, gluten-free sourdough bread we found in the local food co-op. It was a Barn Owl Bakery bread, and it looked gorgeous and tasted great.
I was pretty excited to find the loaf, and started planning how to ferment GF sourdough starter and make bread when we returned home. Before bidding gluten goodbye, I used to be a darn good baker, and regularly made both regular and sourdough loaves as well as the on-demand bread that's made from dough kept at the ready in a tub in the refrigerator. I was so happy to find the beautiful Barn Owl Bakery bread, and it inspired me to want to bake again.
I made peanut butter and jelly sandwiches to take on a day hike and they were delicious. But, after eating the bread, I had much intestinal distress and cramping — not the most horrible cramping, but still uncomfortable. Gluten free readers — what do you make of this? Do you bake sourdough bread at home?
The ingredients look perfectly fine to me. What do you think?
When I get an urge for a sandwich I usually make
a batch of bannocks.
The last time I got a craving for something in a bun, I lightened up the slightly heavy bannocks with a small recipe adjustment, and used them to hold kidney bean burgers.
My husband made the burgers from a recipe while I made the buns.
The burgers fulfilled my desire for a messy, dripping sandwich, but weren't quite good enough to go on the make-again and-share list. We have other burger recipes we like much better, but it's always fun to try new things rather than use the same old recipes again and again.
My sushi rice cooked in the Instant Pot is getting so much better since
the first time I made it
when it turned out more like rice pudding. I think the magic ratio is one cup of rice to 1-1/4 cups of water. I used standard measuring cups for the rice and water rather than the cup that came with the Instant Pot, and the rice had a great texture. After the cooking time was up, I let the rice stay in the closed pot for about 20 minutes. I seem to have a never-ending craving for vegan sushi, and even writing about it now is making me want some.
Polenta is another one of the foods I get cravings for, so when I make it (in the Instant Pot, of course) I make extra to use the next night
,
or for lunch.
Here is a plate of leftover polenta enhanced with stir-fried tofu and bok choy, sprinkled with toasted peanuts. I suppose the polenta was slightly out of place here, but it sure tasted good!
Top 100 vegan blogs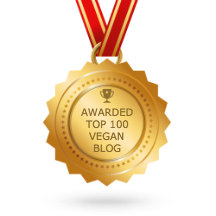 I don't know how many vegan blogs there are, but I just received notice that my little blog is among the top 100. At least according to
feedspot.com.
So for whatever it's worth, if you are interested in discovering more vegan blogs, you can use the list of 100 as a starting point. I'm honored to be on the list with so many great blogs.